Cross-Border dynamics ant territorial identities. The example of Savoy Alps, French-speaking Zwitzerland and Vallee d'Aosta.
Dynamiques transfrontalières et identités territoriales. L'exemple des Alpes de Savoie, de la Suisse romande et du Val d'Aoste.
The borders or dyads which separate Switzerland, France and Italy are the result of a historical respiration whose lines were fixed late with the integration of Savoy into France in 1860. The French language has always facilitated the links of traditional proximities. The second half of the 20th century was marked by a multiplication and diversification of cross-border relations. The actors of the territories frequently position themselves as mediators of the border to facilitate the dynamics. Nevertheless, we question the intentions of the actors. Are they really interested in fostering cross-border cooperation or in strengthening power issues in border areas? Cultural continuities, complemented by economic exchanges as in the Franco-Genevan sector, underline the emergence of original territories. The result, "homotone" (term proposed by the author), corresponds to the margins of the territories of identity, a place of syncretism since, in contact with other cultural signs, determining another original identity territory. Cross-border dynamics and identity developments are comparable in the Western Alps between the internal and external borders of the European Union. The Swiss confederation is not excluded from the general evolution of Europe. On the contrary, it seeks to actively participate in building new ties while respecting popular choices (refusal of 6 December 1992 for the integration of Switzerland into the European Economic Area). The margins of nation states, encouraged by the policies engendered by the European construction, allow the re-emergence of certain rather regional identities and reveal a paradox of our world system. Behind a dominant discourse affirming the disappearance of frontiers within the framework of the global economy, the actors use the economic, legal and social differences essential to the mesh constituted by the states whose differentiators are the borders. Mediation also takes part in a form of patrimonialization of the frontier object.
Les frontières ou dyades qui séparent la Suisse, la France et l'Italie sont le fruit d'une respiration historique dont les lignes ont été fixées tardivement avec l'intégration de la Savoie à la France en 1860. La langue française a toujours facilité les liens de proximités traditionnels. La seconde moitié du XXème siècle est marqué par une multiplication et une diversification des relations transfrontalières. Les acteurs des territoires se positionnent fréquemment en médiateurs de la frontière pour faciliter les dynamiques. Néanmoins, nous nous interrogeons sur les intentions des acteurs. Cherchent-ils réellement à favoriser la coopération transfrontalière ou à renforcer des enjeux de pouvoirs sur les territoires frontaliers ? Les continuités culturelles, complétées par les échanges économiques comme dans le secteur franco-genevois, soulignent l'émergence de territoires originaux. Le résultat, « l'homotone » (terme proposé par l'auteur), correspond aux marges des territoires identitaires, lieu de syncrétisme puisqu'au contact d'autres signes culturels, déterminant un autre territoire identitaire original. Les dynamiques transfrontalières et les évolutions identitaires sont comparables, dans les Alpes occidentales, entre les frontières internes à l'Union européenne et celles externes. La confédération helvétique ne s'exclut pas de l'évolution générale de l'Europe. Au contraire, elle cherche à participer activement à la construction de liens nouveaux tout en respectant les choix populaires (refus du 6 décembre 1992 pour l'intégration de la Suisse dans l'Espace Economique Européen). Les marges des Etats-nations, encouragés par les politiques engagées par la construction européenne, permettent la réémergence de certaines identités plutôt régionales et révèlent un paradoxe de notre système monde. Derrière un discours dominant affirmant la disparition des frontières dans le cadre de l'économie globale, les acteurs utilisent les différences économiques, juridiques et sociales essentiels des mailles constituées par les Etats dont les différenciateurs sont les frontières. La médiation participe même à une forme de patrimonialisation de l'objet frontière.
Fichier principal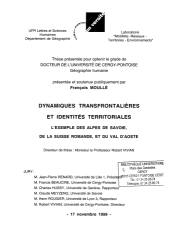 99CERG0078.pdf (42.22 Mo)
Télécharger le fichier
Origin : Files produced by the author(s)