The unicorn, flexibility and persistence
"La Licorne, polyvalence et persistance"
L'article retrace à grands traits les moments importants et les tournants de l'histoire de la licorne, depuis des origines incertaines, une appartenance à des sphères culturelles diversifiées, jusqu'à des interprétations contrastées, voire, en apparence, contradictoires. Mais son propos est avant tout de tenter de com- prendre pourquoi la licorne se caractérise par une telle omniprésence, pourquoi elle compte encore parmi les créatures imaginaires de référence. On pourrait s'en tenir au constat de sa polysémie. Toutefois, nous pensons que, par-delà son extrême polyvalence, elle contient différents traits essentiels à sa persistance et à son succès contemporain. De fait, si elle est évidemment liée à notre rapport au merveilleux, à l'imaginaire ou à l'imagination, la licorne exprime également une forme de pouvoir, de puissance à « agir sur » ou encore de puissance à « se préserver de ». En outre, elle convoque les dynamiques du désir, qu'il soit amoureux, spirituel ou encore désir de beauté. C'est la volonté de donner une forme à ce qui n'a pas de forme qui nous pousse à toujours réinventer la licorne. Elle est ce pour quoi on préserve un espace et une possibilité.
Fichier principal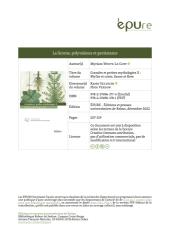 EPUMYTHO_02_B_12 White.pdf (223.21 Ko)
Télécharger le fichier
Origin : Publication funded by an institution