La mobilité récursive dans le réseau personnel affinitaire translocal : une mobilité hors consommation liquide ?
This paper analyzes the mobilities in marketing according to different disciplinary contributions and opens the sociological perspective of Urry (2000) in order to understand in a different way the behavior of the mobile consumer compared to the Bauman's (2000) approach based on deterritorialization and fictitious social relations of individuals. The vision of Urry (2000) reintegrates the socio-cultural aspect in the mobilities and CCT becomes relevant for their study. Through semi-structured interviews with consumers who recurrently frequent their translocal ego affinity network, our research reveals a mobile consumer who engages in the passage of material products and cultural practices. This behavior differs from that of the other typologies of mobilities treated in the marketing literature.
Cette communication analyse les mobilités en marketing selon différents apports disciplinaires et ouvre à la perspective sociologique de Urry (2000) pour appréhender de manière différente le comportement du consommateur mobile par rapport à l'approche de Bauman (2000) basée sur la déterritorialisation et les relations sociales fictives des individus. La vision de Urry (2000) réintègre l'aspect socio-culturel dans les mobilités et la CCT devient pertinente pour leur étude. Par des entretiens semi-directifs de consommateurs qui fréquentent de manière récurrente leur réseau affinitaire translocal, notre recherche fait émerger un consommateur mobile qui s'engage dans le passage de produits matériels et de pratiques culturelles. Ce comportement se distingue de celui des autres typologies de mobilités traitées dans la littérature marketing.
Fichier principal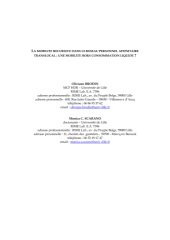 BrodinScarano_2018JNR_shortpaperV2.pdf (188.75 Ko)
Télécharger le fichier
Origin : Files produced by the author(s)