LE MANAGEMENT DES STAGES DANS UN MASTER D'INGENIERIE. ASPECTS DE L'EVOLUTION DES PRATIQUES
This paper presents the system of internship implemented for "Industrial Process and Innovation" Master students at the Faculty of Applied Sciences in Béthune. After mentioning a few consequences with regard to the management of these internships, we propose an analysis to report on the pedagogical, organizational and institutional skills involved and the methods used to rule them. Indeed, these internships are part of a sandwich training course with three interactive groups : first the institution (University and Company) second the organization (University and Company) and finally the people concerned (trainers and interns). This paper stresses the fact that approaching internships in terms of management means focusing on the dynamics used between the three groups. It also enhances that the methods of management are multiple, versatile, and strongly based on human relations and mainly rely on the team which manages the system.
Cette communication rend compte du dispositif de stage du master " Process Industriels et Innovation " de la Faculté des Sciences Appliquées de Béthune. Après avoir brièvement exploré quelques implications du point de vue de la 'gouvernance', un cadre d'analyse est proposé pour rendre compte des propriétés pédagogiques, organisationnelles, institutionnelles et des modalités de régulation du stage en formation concerné ici. En ce sens, le stage est conçu comme faisant partie d'un système de formation en alternance à trois pôles en interaction : le pôle institutionnel (Ecole, Entreprise), le pôle organisationnel (école, entreprise) et le pôle actoriel (stagiaire, formateurs). Cette communication souligne le fait qu'approcher le stage en termes de gouvernance signifie de mettre l'accent sur les dynamiques à l'oeuvre entre les trois pôles du dispositif de formation. Elle met aussi en évidence que les modes de gouvernance sont multiples, changeants, éminemment humains et reposent fortement sur l'équipe qui gère le dispositif.
Fichier principal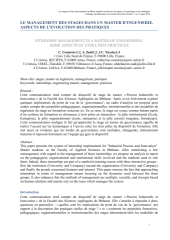 Univ_Artois_Couturier_Zaid.pdf (167.02 Ko)
Télécharger le fichier
Origin : Files produced by the author(s)