Grandmothers tales: directions for a stage composition writing workshop at University as a place for the exploration of the practice of documentary theatre
Histoires de grands-mères : pédagogie d'un atelier d'écriture de plateau à l'université comme lieu d'exploration pratique du théâtre documentaire
Le storie delle nonne: pedagogia di un laboratorio di scrittura da palco all'Università come luogo di esplorazione pratica del teatro documentario
This article presents the experience of a workshop of writing with stage composition dedicated to undergraduate students in drama. This workshop aims at better understanding the undergoing creation process, mobilising a documentary theatre mode. The tudents have to write a monologue and to explore a diversity of stage forms, based on the recordings of a grandmother. These creations are in search for a place where poetry is living, to narrate reality, starting from the testimony of women who define themselves as grandmothers and who unveil a part of their life.
Cet article présente une expérience d'atelier d'écriture de plateau avec des étudiants de Licence Arts du spectacle. Le cours vise à mieux comprendre le processus de création à l'œuvre dans une forme de théâtre documentaire. Les étudiants doivent écrire un monologue et explorer des formes scéniques très diverses, en ayant comme matériau de départ l'enregistrement d'une rencontre avec une grand-mère. Ces créations cherchent le lieu du poétique pour dire le réel, à partir de témoignages de femmes qui se définissent comme grands-mères et qui dévoilent une part de leur vie.
Questo articolo presenta l'esperienza di un workshop di scrittura scenica con gli studenti del programma di triennale Arti dello pettacolo. Il corso mira a comprendere meglio il processo creativo che opera nella forma del teatro documentario. Gli studenti sono tenuti a scrivere un monologo e a esplorare un'ampia varietà di forme sceniche, utilizzando come materiale di partenza la egistrazione di un incontro con una nonna. Queste creazioni tendono alla poetica per raccontare il reale, basandosi sulle testimonianze di donne che si definiscono nonne e che rivelano una parte della propria vita.
Fichier principal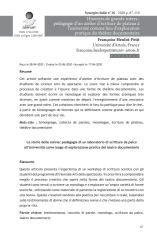 heulot_petit.pdf (303.82 Ko)
Télécharger le fichier
Origin : Publisher files allowed on an open archive