Les concrétions carbonatées des aqueducs gallo-romains de Villenoy (Seine-et-Marne, France) et de la Suippe à Reims (Marne, France) : étude pétrographique et questionnement sur l'origine des séquences enregistrées
The recent archaeological study of two Roman aqueducts located in northern Gaul at Villenoy near Meaux (Seine-et-Marne) and Reims (Marne) was accompanied by a macroscopic and microscopic analysis of the carbonate concretions located on the sidewalls of the water channel. The sequencing of these concretions, although not very thick, allows us to retrace parts of the history of the aqueducts. For the aqueduct of Villenoy, the petrographic study confirms the chronological succession of two major phases and two types of operating modes. In the case of the aqueduct of Reims, it forces us to question the very short time recorded in the preserved concretions.
L'étude archéologique récente de deux aqueducs antiques localisés dans le nord de la Gaule à Villenoy près de Meaux (Seine-et-Marne) et Reims (Marne) s'est accompagnée d'une analyse macroscopique et microscopique des concrétions calcaires situées sur les flancs du canal d'adduction d'eau. Le séquençage de ces concrétions, pourtant peu épaisses, permet tout de même de retracer des parties de l'histoire de ces monuments. Pour l'aqueduc de Villenoy, l'étude pétrographique confirme la succession chronologique de deux grandes phases et modes de fonctionnement. Dans cas de l'aqueduc de Reims, elle nous force à nous interroger sur le temps enregistré dans les concrétions préservées.
Fichier principal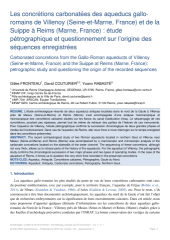 Fronteau et al 2023 Concrétions aqueduc antiques.pdf (2.02 Mo)
Télécharger le fichier
Origin : Files produced by the author(s)
licence : ETALAB - Open licence